Current Standings
Standings from the Fall Quarter
Intermediate

:
1st place: Tanya Carpenter
2nd place: Marissa Bonnema
3rd place: Nicole Morrison
Experienced

:
1st place: Lesley Katherine Spalding
2nd place: Jenna Eldean McDougall
3rd place: Quinn Baron
Advanced

:

1st place: Vanessa Davis

2nd place: Maria Isabel

3rd place: Shawna Marie




Congratulations, ladies!

Networked Blogs

Archives


Thursday, March 29, 2012
For this collab we wanted to do something a little different and really went for something that was important! Everybody deserves to be loved and appreciated no matter what their gender. So a few of us got together and made a collab!
This kit has contributions from
Karra
,
Kate
and
Shani
and you can get it
HERE
I was so excited by how well everyone did with the scrapping challenge! WHat we do for those that don't know, we have a scrapping school in the forum that I teach (shani) and we run a scrapping challenge every two weeks. For example for this challenge, I had the girls use a FTU item from the designer who sponsored the challenge in their kits. THey were given specifics and then when the challenge was over we voted on the winner. The winner won CU items from the sponsored designer!
HEre are the kits ready for download!
*note please click on the thumbnails to view them larger
Grape berry from April of Charmed Cowgirl get hers
HERE
Incense tones by Cindi of IceHoleCyn get it
here
It's spring put a bird on it! by Dana J get it
HERE
Our lovely members were challenged to use the freebie kit "a little birdie told me" by Shani of
wicked princess
scraps to make a cluster frame!
These are now up for grabs! Thank you ladies these are gorgeous!!!
Remember to follow the TOU of the scrap designer AND the frame maker!
*note click on the thumbnails to see them larger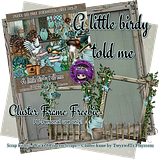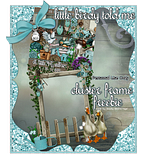 Get Lesias
HERE
and her blog is
HERE
Get Robins
HERE
and her blog is
HERE
Get Stacey's
HERE
her blog is
HERE
Get Teezers
HERE
and her blog is
HERE
Categories